When I'm not at home in Frigiliana, I sometimes rent out my Andalusian home. It is located on the ground floor of one of the whitewashed houses in this "one of Spain's most beautiful villages".

It's easy to get here. When you land in Malaga, it's less than an hour drive to get here. Buses make frequent trips east to the small coastal town of Nerja and from there the local bus goes the last half mile uphill to Frigiliana.
Frigiliana is located on a mountain shelf 300 meters above sea level and is considered one of Spain's most beautiful white villages. It is no less than that it has many restaurants and shops. The best, however, is nature. The mountains with all the hiking trails and viewpoints and the valley with its plantations.
You have walking distance to everything and manage well without a car. If you come by car, you will be there in less than an hour via the motorway from Malaga and in Frigiliana you can park for free on the streets. By car you can also get to secluded beaches with crystal clear water and make excursions to all the small villages in the area and lots of different hiking trails.
Two bedrooms, sleeps eight, three bathrooms, two kitchens, private garden and pool…
I have the ground floor of a house and a nice little garden with a pool. There is a small and a larger apartment, both with access to the garden. A total of eight sleeping places distributed over two bedrooms – one in each apartment – sofa bed in the small apartment and large corner sofa in the large apartment. A total of three bathrooms plus a toilet outside. All rooms are on one floor. You can go between the apartments via the laundry room, which has a washing machine and dryer.
The small apartment has its own entrance from the street. It has a bedroom with a double bed that can be divided into two single beds and a simple Andalusian kitchen and living room with a sofa bed for two. Bathroom with shower. Everything new and fresh. The kitchen area has what is necessary for simpler cooking. It is also fine to cook in the garden, where there is a large barbecue area. The kitchen's portable induction hob can be taken out.
The larger apartment has a bedroom with a large double bed (180 x 200 cm) and a bathroom en suite, a large living room with an open-plan kitchen and openable glass partitions along the entire southwest side facing the garden. In the living room there is a wide corner sofa with two really good sleeping places if needed and a bathroom with a shower. Four people live well here, but for a couple it is a wonderful feeling of luxury to have the apartment to themselves. Everything is new and fresh and very spacious.
The apartments are equipped with modern, easy-to-use facilities for cooling and heating. With the remote control, you can choose the temperature in each room. The bathrooms and master bedroom have underfloor heating, but because it is expensive to use, you need to order it to be turned on and pay extra. Both apartments have good ventilation with modern pax fans in the bathrooms that run all the time. Here you don't have to worry about dampness and mold which is so common in Spain!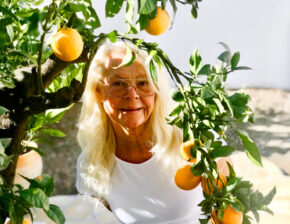 The garden has a barbecue area with a long bench area with a gas and charcoal/wood grill, a large dining table with room for many, and a swimming pool. Both the barbecue area and the pool shower have hot and cold water. WC is also available outside. The pool is heated but it costs extra to use it. Start-up can be ordered in advance and the temperature is controlled via an app on my mobile.
Half the garden has trees and flowers and a small kitchen garden. Here are orange, banana, grapes, lemon, mango, avocado, papaya and passion fruit, most of which trees are newly planted so we have to wait for them to bear fruit. In the picture you see me under my orange tree, which was here many years before me. All winter and spring you can pick the sweet ripe fruits.
If you are four people who want to live together but at the same time have the opportunity to split up sometimes, for example two couples, a family with half-grown children or adults traveling with elderly parents, I recommend that you rent the entire home. Then you have two good bedrooms, each with a kitchen and can go in to each other's house and hang out whenever you want. You can go through the laundry room or a covered passage outside the window sections. This variant is definitely the most popular.
You have walking distance to all restaurants and shops as well as many hiking trails in the mountains and the river bed up and down to Nerja.
Prices peak season April-November (weeks 14-44)
The small apartment €490 per week.
Large apartment €980 per week
The entire residence €1330 per week
Rent can be started on the desired day of the week and extra days after a full week cost one-seventh extra per day. 10 percent discount when renting for at least two weeks in a row. If a longer rental period is desired, a quote is provided.
Modern easy-to-use cooling/heating is available in all rooms and is included. Free fast Wi-Fi is included. Cost of cleaning and laundry included. Underfloor heating is available in the bathrooms but it costs extra to use it, as well as heating the pool. Put on by prior agreement.
Low season November-March
10 percent lower rent November-March (weeks 45-13). This time it is guaranteed to be quieter and cooler. There are few tourists, which is why some restaurants have closed, but the days can be summery and the sun is up at least two hours longer than in Sweden. The flight tickets is significantly cheaper If a longer rental period than two weeks is desired, a quote is provided.
Write here and I'll get back with more information about free times!
The Swedish version where you can see all beautiful pictures!